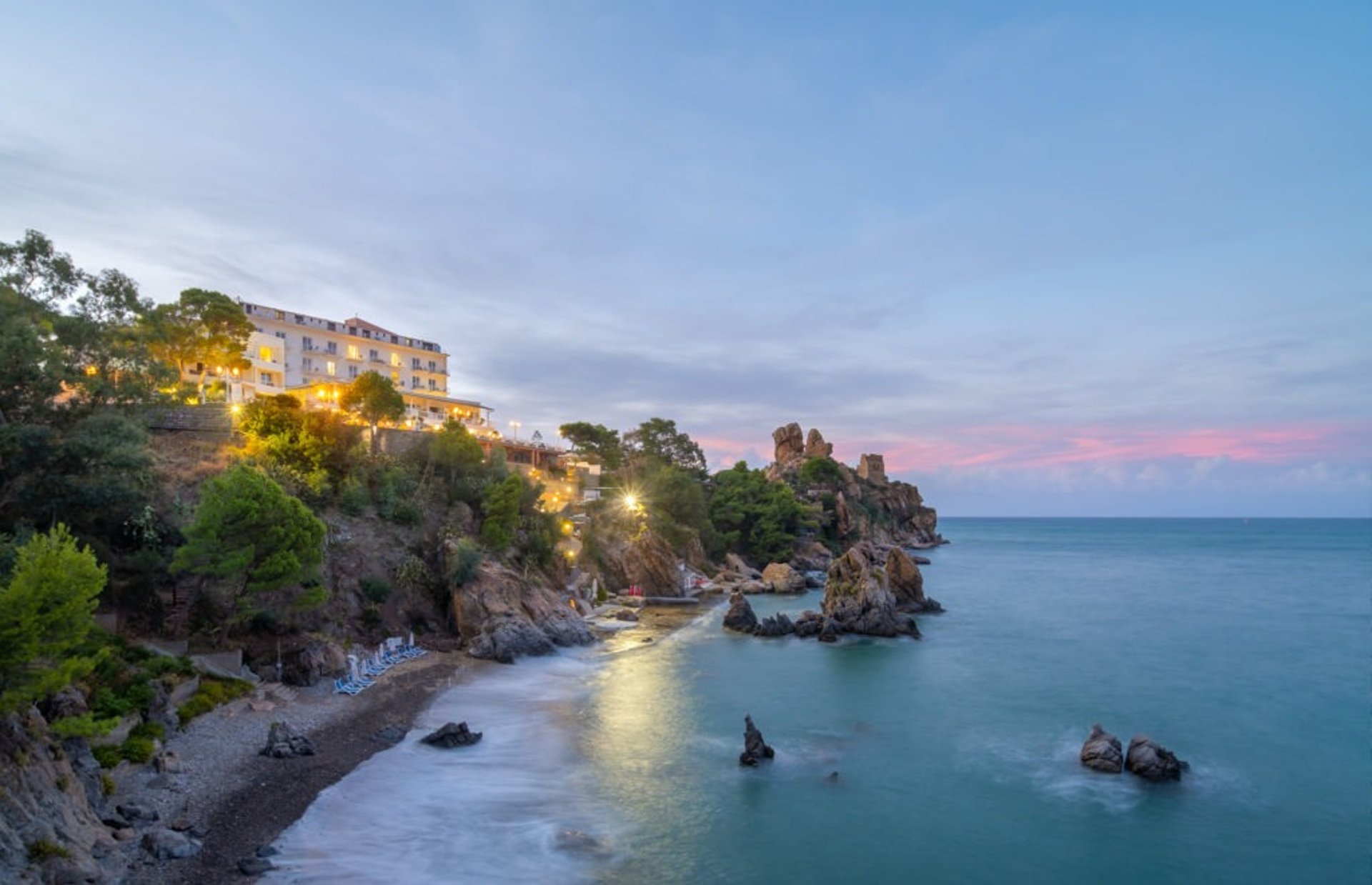 4-10 November 2023
Cefalù, SICILY
yOGA, PRANAYAMA, MEDITATION
At a time when days are becoming shorter and sunlight is waning, Sicily offers the perfect opportunity to replenish vitamin D, savour fresh Mediterranean cuisine and enjoy panoramic sea views. Our yoga, pranayama and meditation practices aim to help raise and balance our energy. Hotel Kalura provides a beautiful, serene environment to relax and replenish. With numerous terraces facing the sea and the mountains, as well as two large yoga rooms, we will have the perfect setting for various practices. Perhaps you will feel inspired to continue some of them when you return home to take the feeling with you.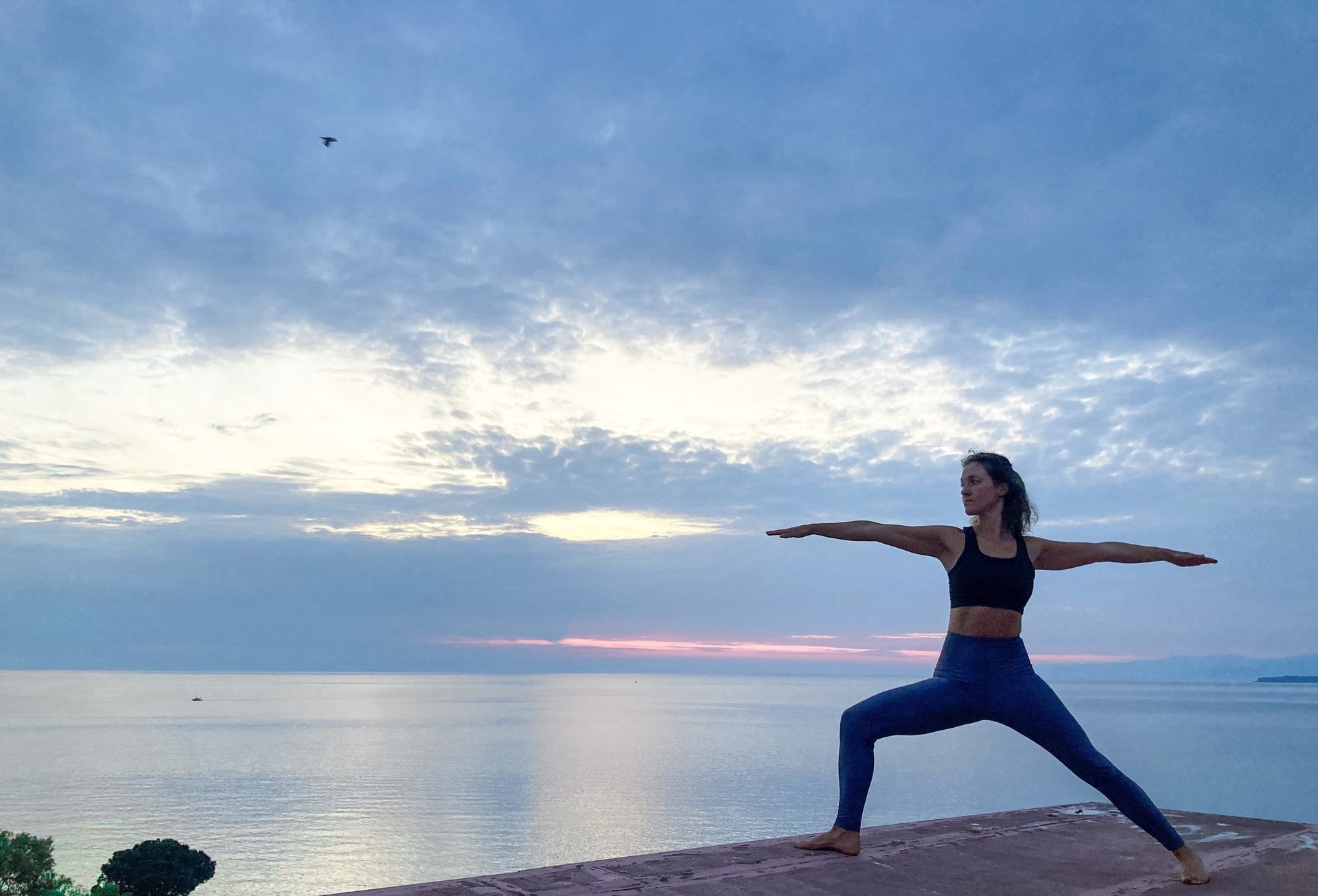 After arriving on Saturday 4th, you will have some time to get your bearings, explore the hotel and perhaps relax on the private beach or in a lounge chair by the café and bar. We will meet for dinner, have an introductory round to get to know each other, and our first yoga class. We will start off with a relaxing, stretchy class to help us arrive.
On Sunday to Friday we will start each morning with a pranayama class. This sets us up for the day energetically and helps wake us up. This is followed by a delicious breakfast buffet provided by the hotel. It caters to vegan, gluten-free, dairy-free and many other dietary requirements. Please enquire if you have questions.
After breakfast each day there will be one or two yoga classes (optional to join one or both), a meditation class and an optional excursion (not included in the package price). The timings of yoga and meditation will vary to accommodate the excursions.
Optional group excursions are:
Visiting Cefalù to sightsee, watch sunset and shop regional specialities

Hiking up La Rocca, the rock overlooking Cefalù, which is also home to a medieval castle and the prehistoric Diana temple built using megaliths

Participating in a Wim Hof Method workshop led by the hotel owners. They are certified instructors in the method. It consists of breathwork, cold exposure and meditation to raise health markers and generate similar mental states as yogic practices

Two different hikes in the Madonie, the nearby mountain range, exploring two different kinds of landscapes there and enjoying the flora and fauna. In November, the main heat has passed and you will find many plants blooming and nature green and lush.
Alternatively you can take time off to spend according to your own interests - bathing in the sea, lying in the sun, finding more remote beaches by bicycle or car, biking in the Madonie and many more.
Lunch and dinner are not included in the package giving you the option of dining at the hotel restaurant (excellent Italian cuisine ranging from €13 to €24 for a main) or outside depending on the day's activities.
On the final day we will have a morning pranayama session, breakfast, and a final yoga and meditation class before we bring the retreat to a close.
YOGA, PRANAYAMA & MEDITATION
Katharina Kunze will be leading the Yoga, Pranayama and Meditation classes. She was certified in Rishikesh, India, at the foot of the Himalayas, in traditional Hatha and Ashtanga Yoga. Her appreciation for yoga philosophy and yogic practices reaching beyond asana stem from the profound and authentic teachings she experienced. She is keen to pass on her learnings to support others on the path to peace, flow and a sense of oneness.
Her teaching is also heavily influenced by the Jivamukti yoga style, which brings in more modern and (self-proclaimed) "hip" elements. This includes music used in class, light face and neck massages in savasana, and many of the sequences and indepth alignment cues stem from that practice.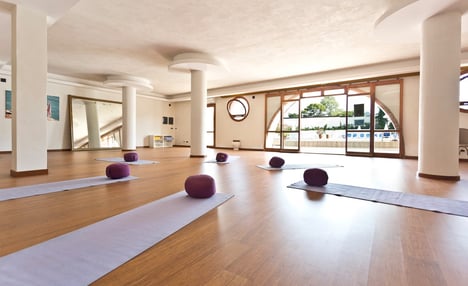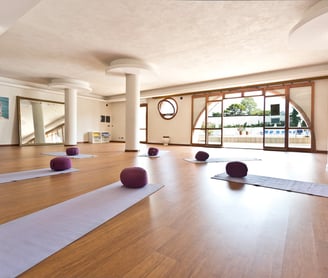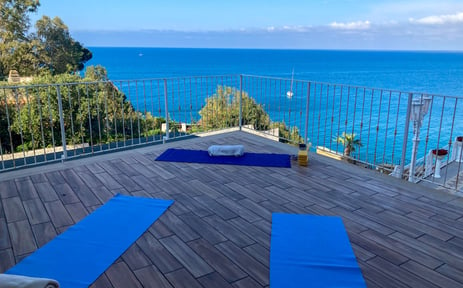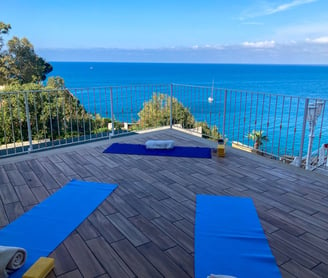 Wim Hof Method:
Gerrit Curcio and Isabel Einsiedl are owner/managers of Hotel Kalura. Gerrit is also an athlete holding several ice swimming records, and Isabel is an artist whose works are also displayed at the hotel. Both are certified Wim Hof Method instructors - a method which they credit with positive health outcomes, greater mental resiliency in their day-to-day life and a fast way to enter certain spiritual states. In their Wim Hof Method workshop you will learn more about the theory behind the approach and be able to experience the effects in an extensive breathing exercise as well as an (optional) ice bath.
Hikes in the Madonie:
Bernd Hornig runs the bike rental at Hotel Kalura and has led tours in the region for nearly 15 years. He says he never gives tours he doesn't personally love, and as such finds the most idyllic and scenic spots for hikes and bike tours. Spiritually inclined and a nature nut, he can show us meditative locations, enchanting forests, and explain much about the nature, plants and history of the region we are visiting.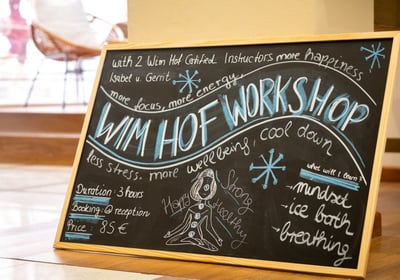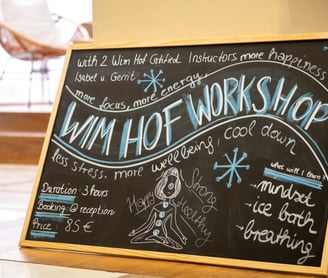 Hotel Kalura is situated on a tongue of land reaching into the sea, which gives it a 180° view of the sea from the main terrace as well as both sunrise and sunset views. With a private beach and the backdrop of the Madonie, this idyllic setting can be enjoyed during yoga sessions, at mealtimes, and from your hotel room balcony. Watching the colors of the sky change and the sun rise out of the sea and sink into the mountains can be memorable and serene daily moments.
The hotel has two indoor yoga spaces and several outdoor yoga areas to choose from. You can also use its private beach, two pools, gym area, tennis and table tennis facilities, massage offers and their canoe, SUP and bike rental.
The staff at Hotel Kalura speaks English, German, French and Spanish in addition to Italian. The breakfast buffet offers a multitude of fresh fruit and vegetables; sweet and savoury pastries, cakes, pancakes and other baked goods; a barista preparing your coffee wishes; charcuterie and cheese platters; warm egg and sausage dishes; organic honeys and marmelades; and a variety of mueslis, cereals, seeds/grains/fruit, yogurts and milks to create your own healthy bowl. They always have several plant milks and gluten free breads, crackers and pastries available.
The lunch and dinner menu offers an excellent variety of high-quality Italian and international cuisine, again also catering to vegan, gluten-free and other requirements. Mains are between €13 and €24 - at the lower end of the range for vegetarian and at the higher end of the range for meat dishes. Please note that lunch and dinner are not included in the retreat price to allow for different dietary requirements and to give flexibility in the structuring of free time.
In November the weather in Cefalù is expected to be mild at just below 20°C, with the sea water temperature at the same level or slightly higher around 20°C. It has been called the "second spring" as plants bloom again and in general one can expect lush nature and a less busy period on the island in terms of tourism.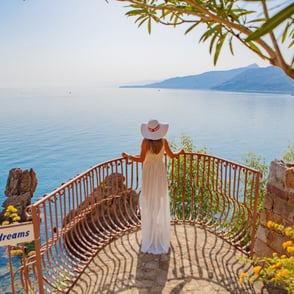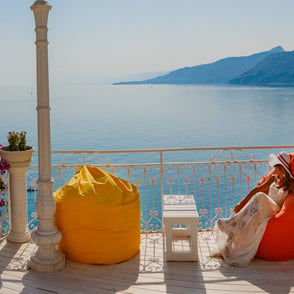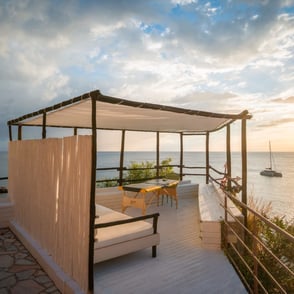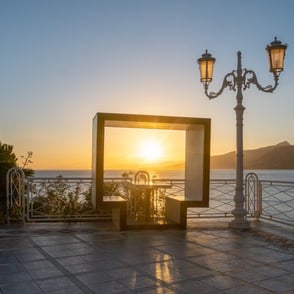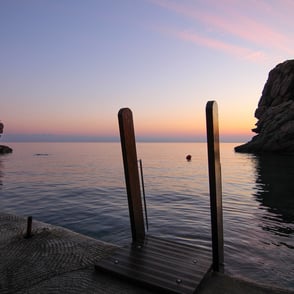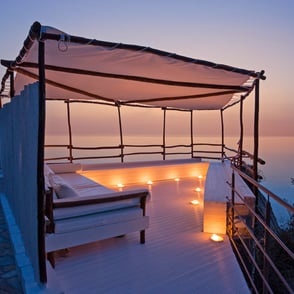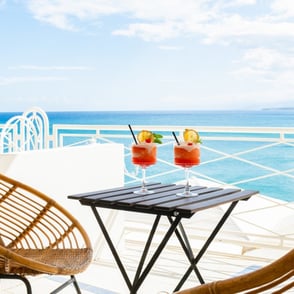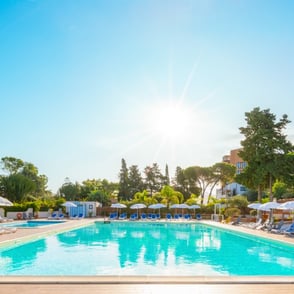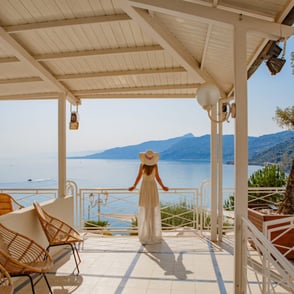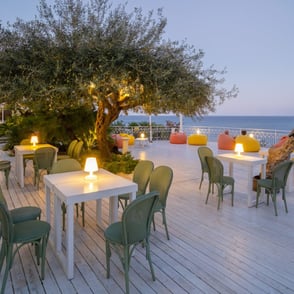 You can choose to book a single or a double room. Each room comes with a small balcony or terrace with additional seating. All rooms are individually and lovingly decorated in different styles.
The single rooms are about 12-13m² in size, the double rooms 22-24m². All rooms either have a sea view or look towards the famous mountain of Cefalù - La Rocca - and a garden. They come with full amenities including: air-conditioning/heating, a flat-screen, TV, a safe, minibar, telephone, hair dryer, slippers, bath towels, and free wifi. All bathrooms were renovated in 2017.
Beds in the double rooms are double beds by default. If you wish to have a twin bed arrangement, please let us know when you book so that we can prepare your room accordingly.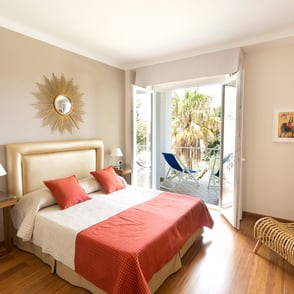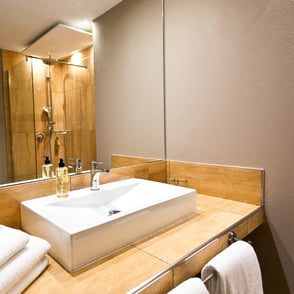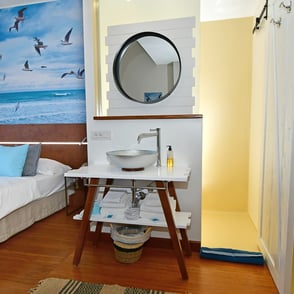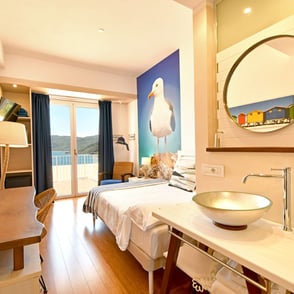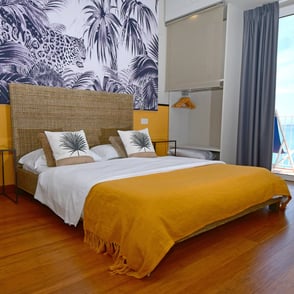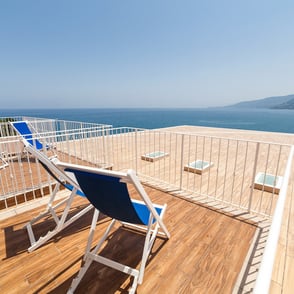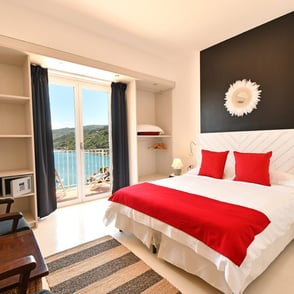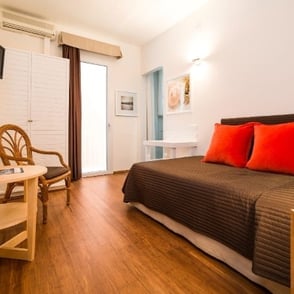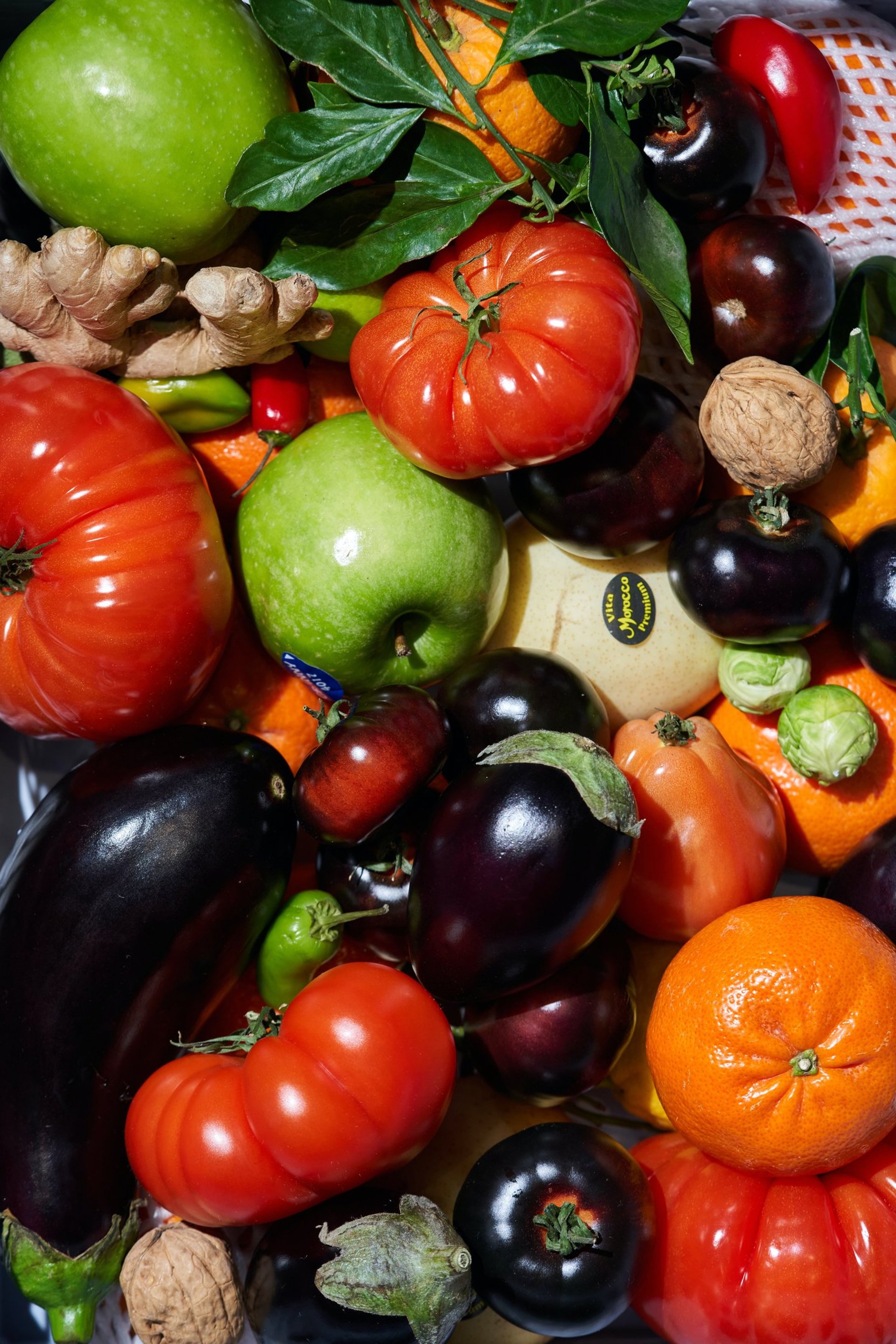 Breakfast
Enjoy the scrumptious hotel breakfast buffet. Offering a variety of sweet and savory, "healthy" and decadent, warm and cold, vegan and non-vegan foods, you are bound to find a plethora of items you like and keep your breakfasts varied.
The buffet includes: warm egg and sausage dishes; fresh vegetables; fresh fruit; cheese and cold cut meat platters; a pancake-maker baking fresh pancakes on demand; a variety of pastries, cakes and muffins; various mueslis and cereals with raw seeds, dried fruit and chocolate chips to add on top; yogurts, milk and warm teas; bread rolls with organic honey and marmelade spreads; and your very own barista that makes each person's coffee wishes individually for them. The hotel offers gluten-free bread, crackers, pastries and other sweet bakery goods; as well as plant-based milks.
Lunch and dinner
Lunch and dinner can be taken à la carte at the hotel restaurant or outside. This allows us flexibility in structuring our days according to different optional activities.
The hotel caters to vegan and vegetarian as well as "regular" and pescatarian diets. It will take into consideration all dietary requirements like gluten free, dairy free or nut allergies. Main dishes at the hotel restaurant range from €13 to €24, salads and vegetarian dishes being at the lower end, and fish and meat dishes at the higher end of the range.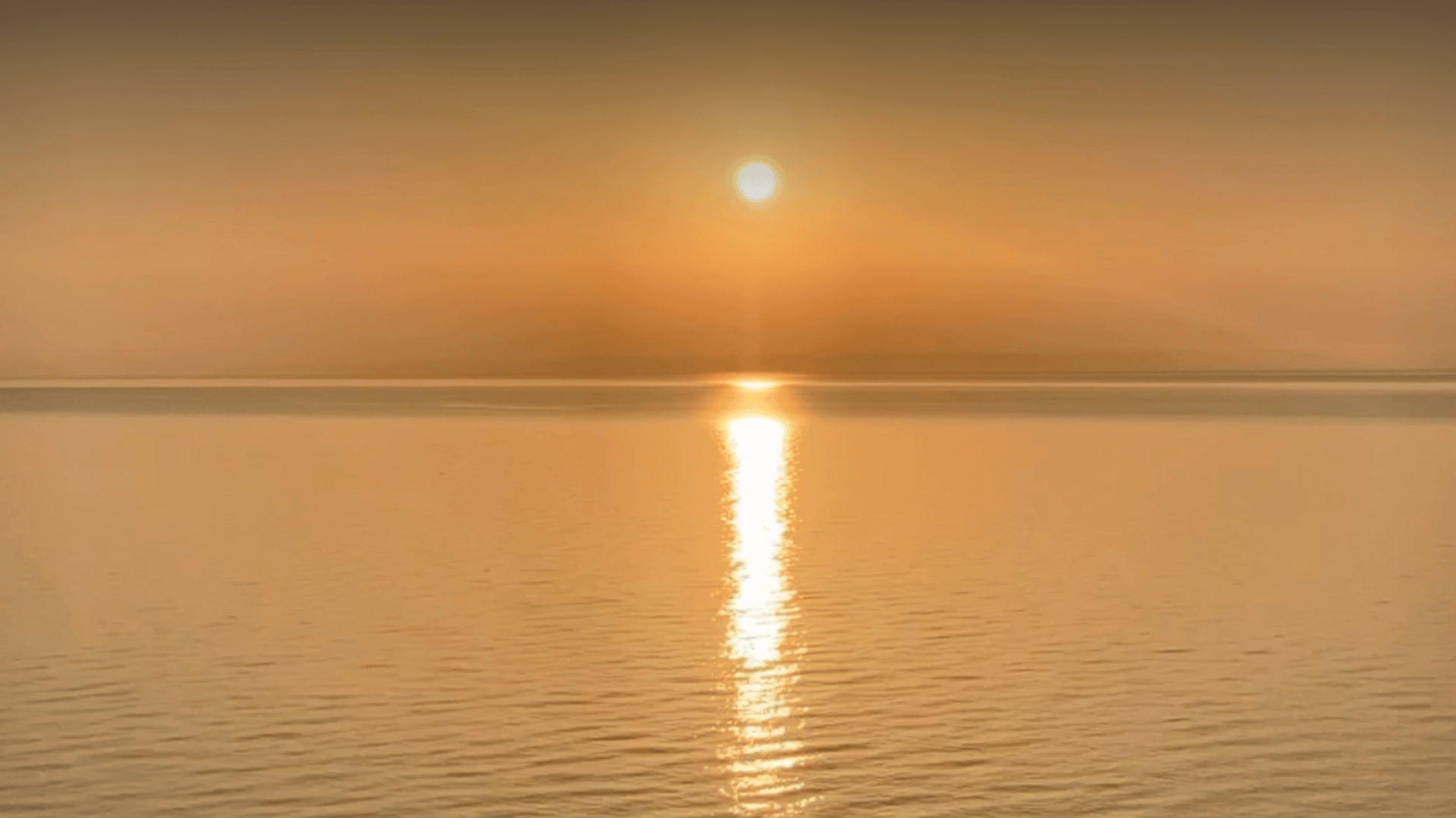 1190€ for 1 person in a single room
1290€ for 1 person in a double room
2190€ for 2 people in a double room
1590€ for 2 people in a double room,
only 1 retreat participant (e.g. yogi + partner)
Yogi: full package included (see list on the right and above).
Non-participating partner: only accommodation and breakfast included.
Included:
6 nights accommodation at Hotel Kalura (4-10 Nov 2023)

1 or 2 yoga classes each day (60-90 minutes each)

6 pranayama sessions

6 meditation sessions

daily large and varied breakfast buffet

1 optional one-on-one session to work on yoga poses of your choice individually

Please note that other optional activities and other meals are not included.
To enquire about any- and everything about the retreat, please send a message using the contact form on the right or to katharina.kunze@gmail.com.
To book, please also send me a message with the package you have chosen and I will confirm the spot for you.
I'm looking forward to you reaching out,
Kat


How can I begin to describe my time with Poveda... It was simply life-changing! I always imagined that Bali would be a breathtaking destination, but thanks to Poveda, I was able to not just experience the culture, but have once-in-a-lifetime memories. I got so much more than I ever anticipated from my holiday.

- Alice Bloomberg